Planning a baby shower? This Blue and Gray Baby Boy Shower is full of simple DIY ideas for the perfect baby shower.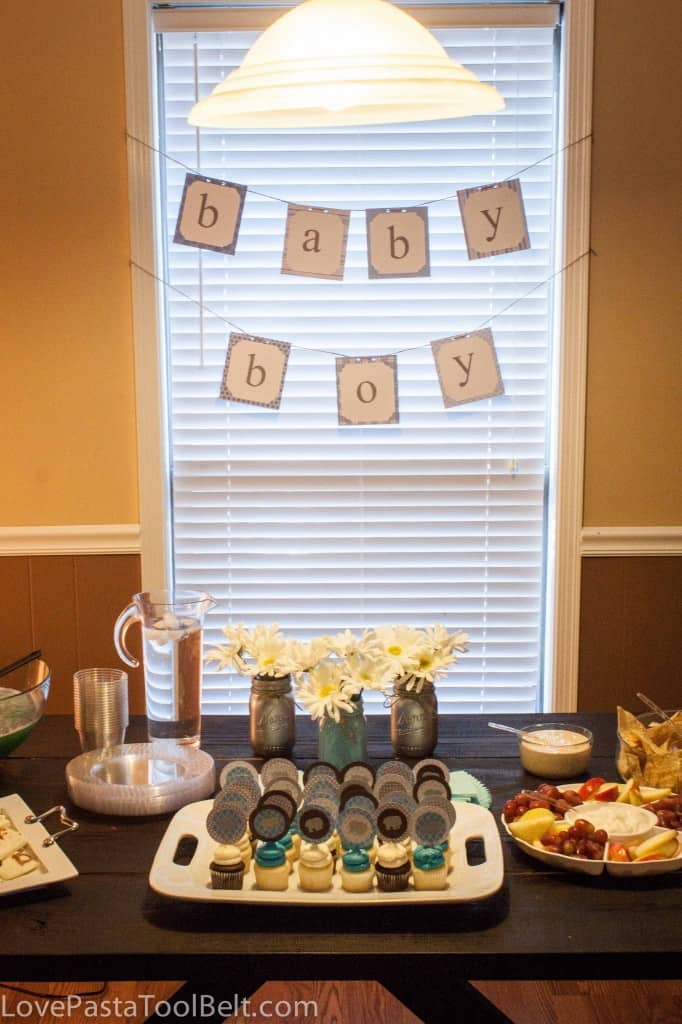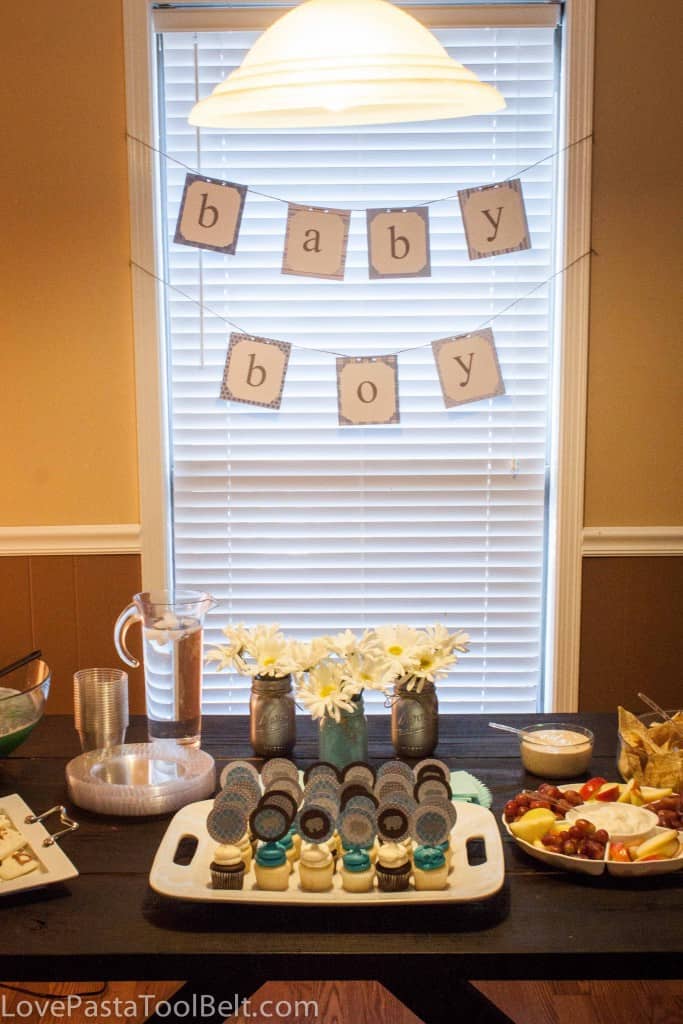 You may remember a few weeks ago I posted my "Ready to Pop" Baby Shower Favors with a free printable. Today I am back to tell you the rest of the details about the Blue and Gray Baby Boy Shower that I threw for my best friend! This was my first time taking the reigns over the planning of a baby shower and I was pretty excited with how everything turned out.
A few of my favorite decorations were first the "Baby Boy" Banner. I made this with scrapbook paper and twine. I used card stock to print out the letters so my sloppy handwriting wouldn't over take the banner. I loved how it turned out. I also took my DIY Spray Painted Mason Jars that were sitting on my mantle and spray painted two additional ones in a baby blue color for some table decor and to hold the forks.
How cute are these cupcake toppers? I can't take credit for these, my best friend's cousin made these with her Silhouette machine and I think they are so adorable. Our theme was blues and grays with touches of elephants. These cupcake toppers added the perfect little elephant touches to the shower. We wanted to keep it clean and simple because that's Anna's style.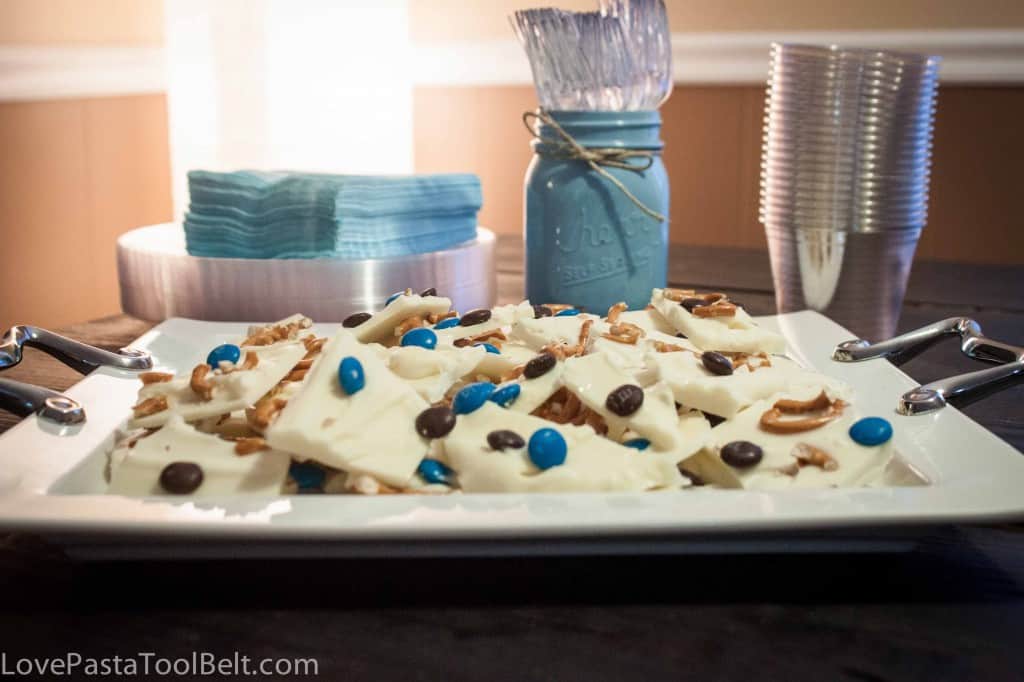 I whipped up a batch of my White Chocolate M&M bark because it is so easily customizable by just picking your M&M colors to match your theme.  I didn't order color specific m&m's but that's something you can do if you have a very specific color scheme to follow. You can also see another shot of my light blue mason jar with twine which Anna kept to keep in the nursery!
The guestbook was one of my favorite things I got for the shower. At Anna and Kyle's wedding their guest book was to use your thumbprints to make balloons and I thought how perfect it would be to have a similar thing for Baby Jett. I found this perfect one on Etsy and it turned out so beautiful!
The "Ready to Pop" Favors with Free Printable were also a favorite of mine. I kept seeing these on Pinterest and knew I had to create my own version. I loved how they turned out and they were a great snack for people who had a little ways to drive home!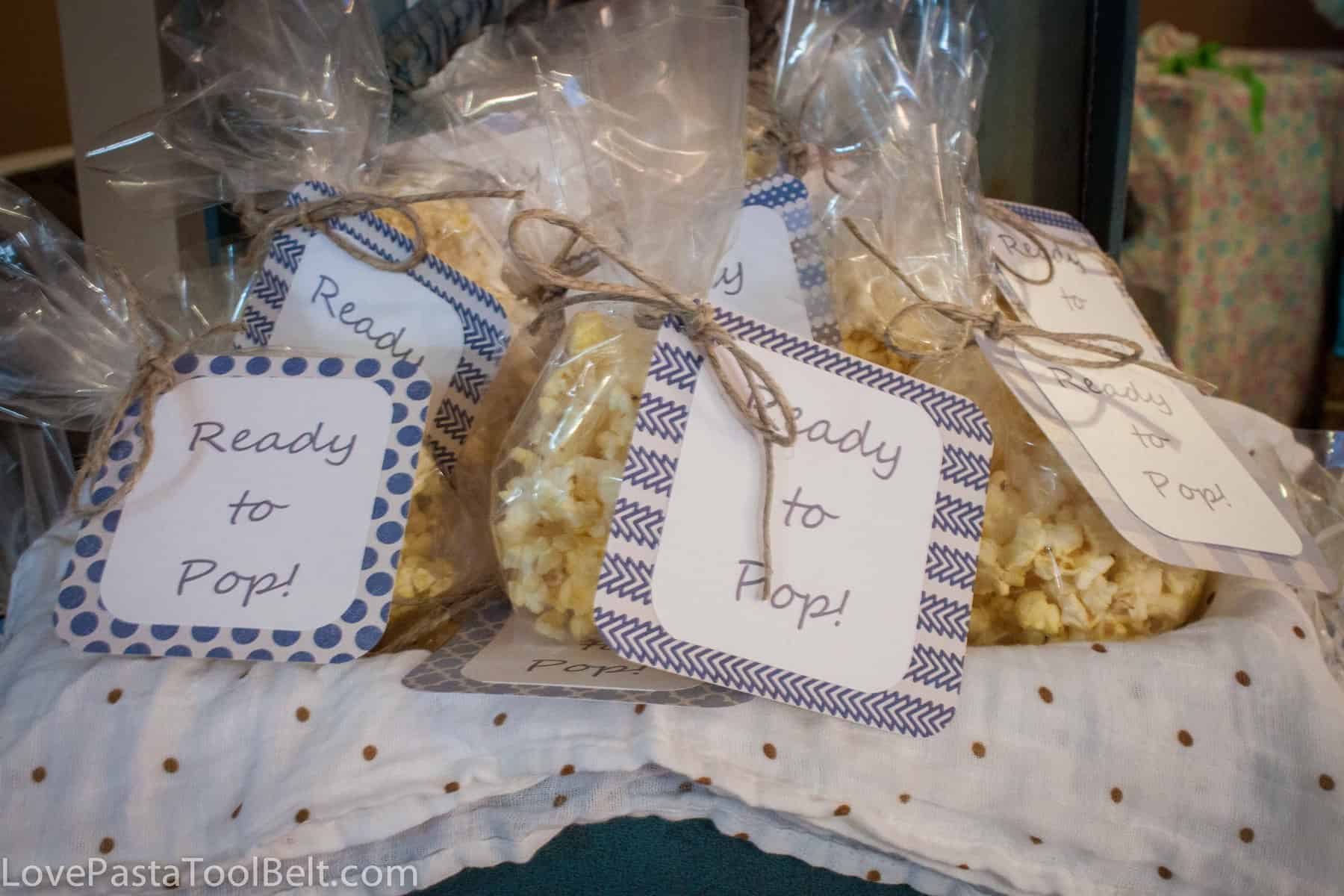 Since the shower was at 2 pm we went light with the food but made sure to cover all of our bases.
Sweets:
-Mini Cupcakes from Gigi's Cupcakes
–White Chocolate M&M Bark
Healthy: 
-Fruit Tray- which we bought the fruit and made ourselves and bought a fruit dip to accompany it.
-Veggie Tray- we did the same and got ranch dressing for the dip
Salty: 
-Chips
-Salsa
-White Queso
Drinks:
-Blue Punch
-Water
I was really excited how everything turned out for the shower. Here are just a few more pictures from it. Have you ever thrown a baby shower?