This shop has been compensated by Collective Bias, Inc. and its advertiser. All opinions are mine alone. #GrabaWetOnes #CollectiveBias
Get ready for cough and cold season with this On the Go Stay Well Kit!
Cough and cold season is upon us and I've already had my fair share of trying to avoid catching other peoples colds. My poor little sister had a bad cold at Christmas, so I tried to be extra careful with washing my hands and staying well. But when you're on the go a lot that is not always easy. That's why I made this On the Go Stay Well Kit with Wet Ones. You can make your own kit too, keep reading and I'll tell you how!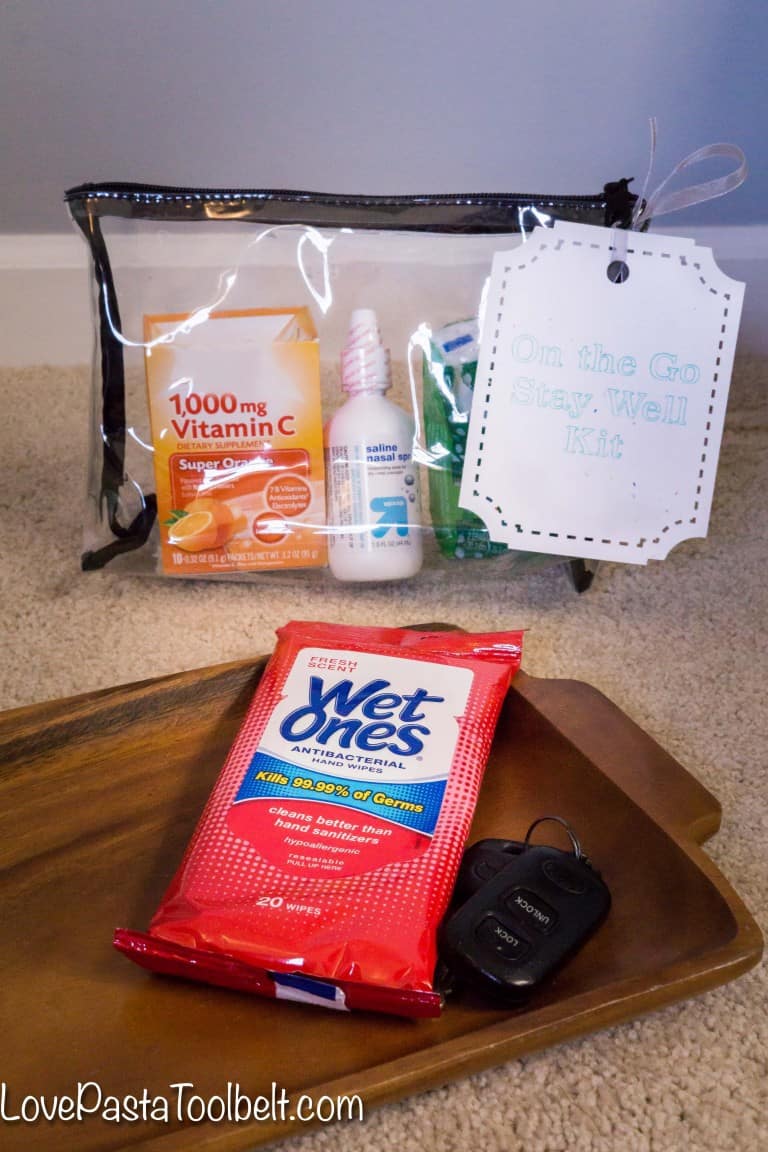 This year during cough and cold season I'm finding it especially important to stay well since I'm pregnant. Even though I don't usually take medicine when I'm sick, just because I don't like it, sometimes you get to a point where you need some relief. But this year most medicines aren't an option for me so I'm working extra hard to stay well. That's where my On the Go Stay Well Kit comes in to play. I feel like it's pretty easy to wash your hands, take your vitamins etc when you're at home. It's routine. But when you're traveling or just constantly all over town for work, errands or anything else it becomes harder.
For my On the Go Stay Well Kit I started with the Wet Ones Antibacterial Travel Pack, these are perfect to go in my kit and have on the go. These will be perfect next year when I have a little girl with dirty hands to clean off but for this year they're for me. They are great to clean my hands off because they kill 99.9% of germs and clean better than hand sanitizers. I also want them in my on the go kit for things like cleaning off the buggy at the grocery store. I hate when they're out of the cleaning wipes because I know those buggy's or shopping carts (if you aren't from the south) are full of other peoples germs.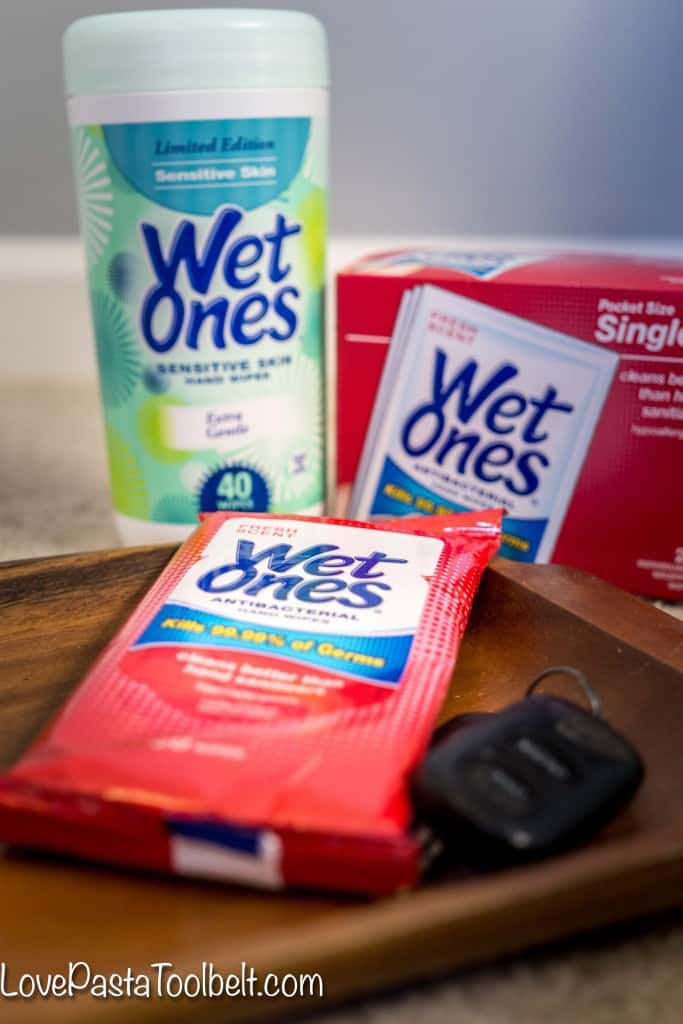 The next thing that's important to have on hand is some Vitamin C or Vitamin C packets. I don't care for flavored drinks so I stick with some Vitamin C when I'm feeling sick but my husband goes for the packets. These are great to have in your on the go kit!
Saline Nasal Spray is another thing I love to keep on hand. If you're feeling a bit stuffy it's great to moisturize your nasal passages and help you feel a bit better. Another great thing to include is Kleenex, sometimes you feel the sniffles coming on so you want to have tissue on hand to help not get any more germs near your face!
So to make your own On the Go Stay Well Kit here is what you need!
Supplies:
-Clear Make Up Bag
-Stay well kit items- Wet Ones, Vitamin C, Saline Spray, Kleenex and anything else you would add.
–Silhouette
-Cardstock
-Silhouette Sketch Pens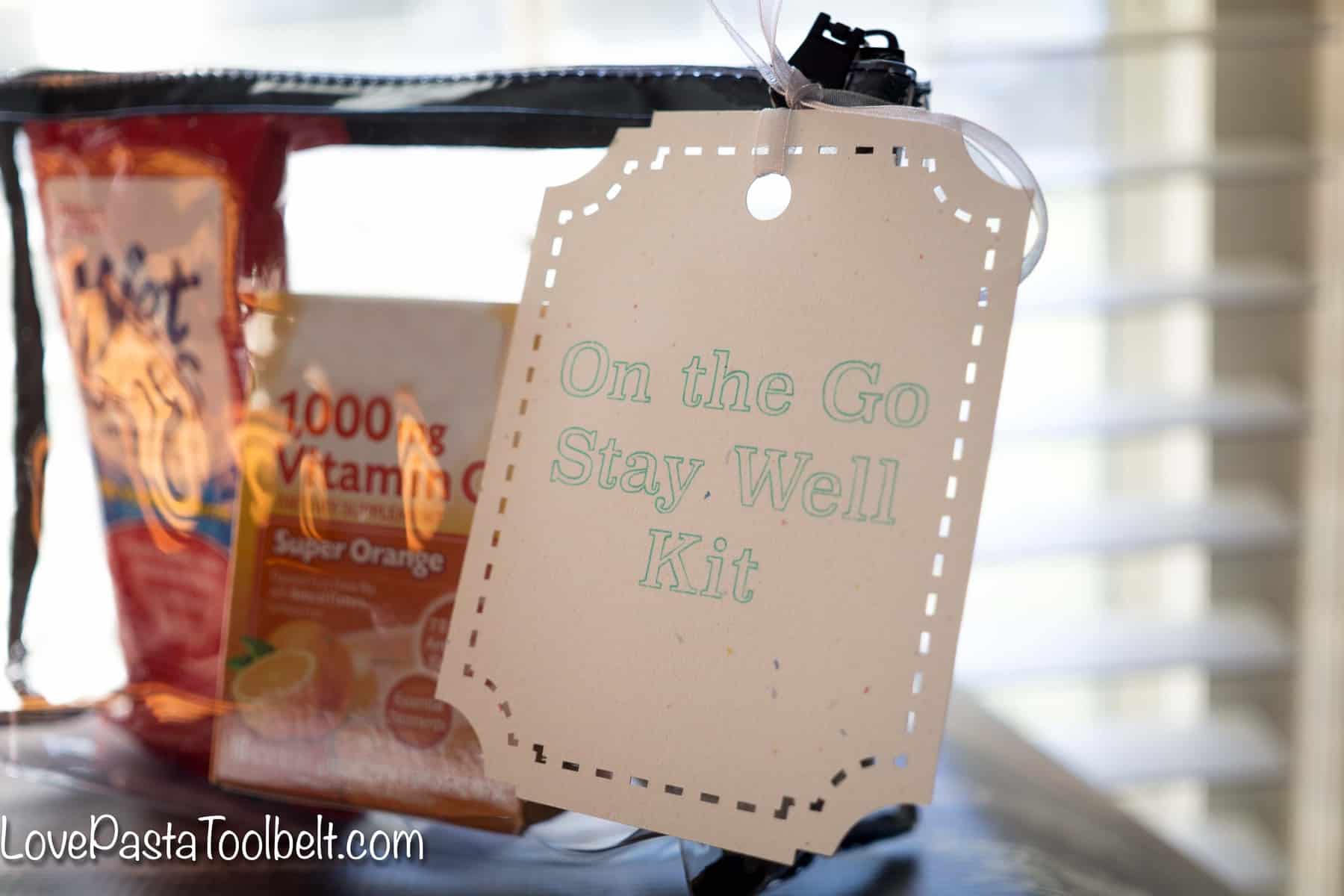 Instructions:
I started by using the free gift tag that comes in the Silhouette software and then entered my text "On the Go Stay Well Kit"
I saved my design and then removed the tag design and inserted my sketch pen into my Silhouette
I set my Silhouette to sketch pen and let the pen sketch the words onto my cardstock paper using the mat
Once the sketching was done, I did not remove the mat from the Silhouette, instead I reopened the design. I removed the words and then set the Silhouette on cut to cut our the tag design!
Remove your design from the mat and attach it with ribbon to your clear make up bag.
Add all of your stay well kit items and viola you have your on the go kit ready to go go go!
Now if you don't have a Silhouette you can still make a cute tag for your bag. It's a fun idea to add a little cuteness to the bag and perfect if you're making it for a gift. My husband was exclaiming how he could use all of the items in this kit on a daily basis so I may have to make another one for him to stick in his car, or I suppose I could give him mine.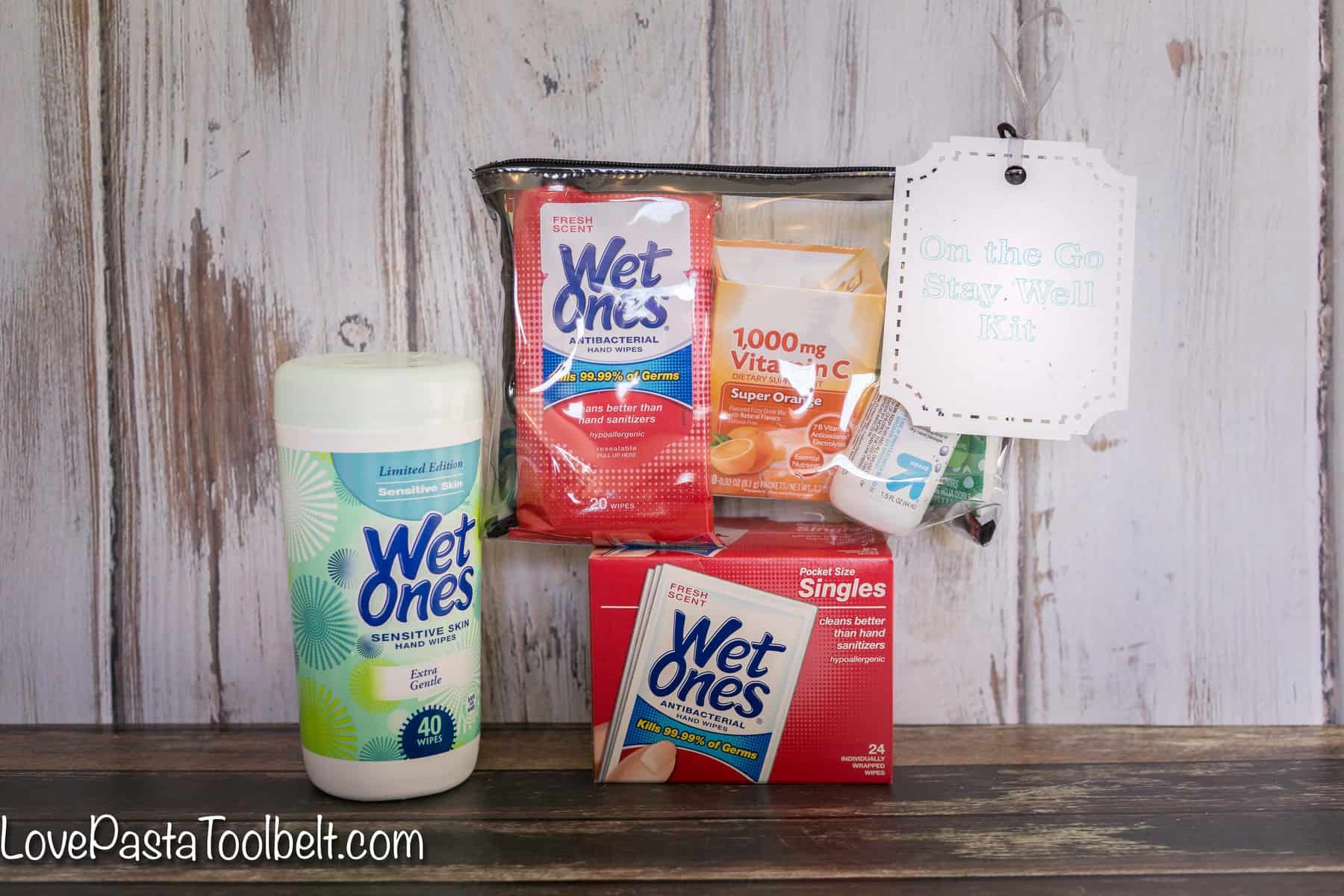 You can pick up your Wet Ones for your kit at Target and save 15% Off Wet Ones Travel Packs or Wet Ones Big Ones using Target Cartwheel until 1/23. What would you add to your On the Go Stay Well Kit?