We have reached the point in our series to FINALLY show you some before and after pictures of our new house. This is the third post in our New Year/New House Series. First, I shared Moving Tips and then House Hunting Tips. Today I have our Living Room Reveal: Before and After. We did a lot of work to the living room and I love how it turned out.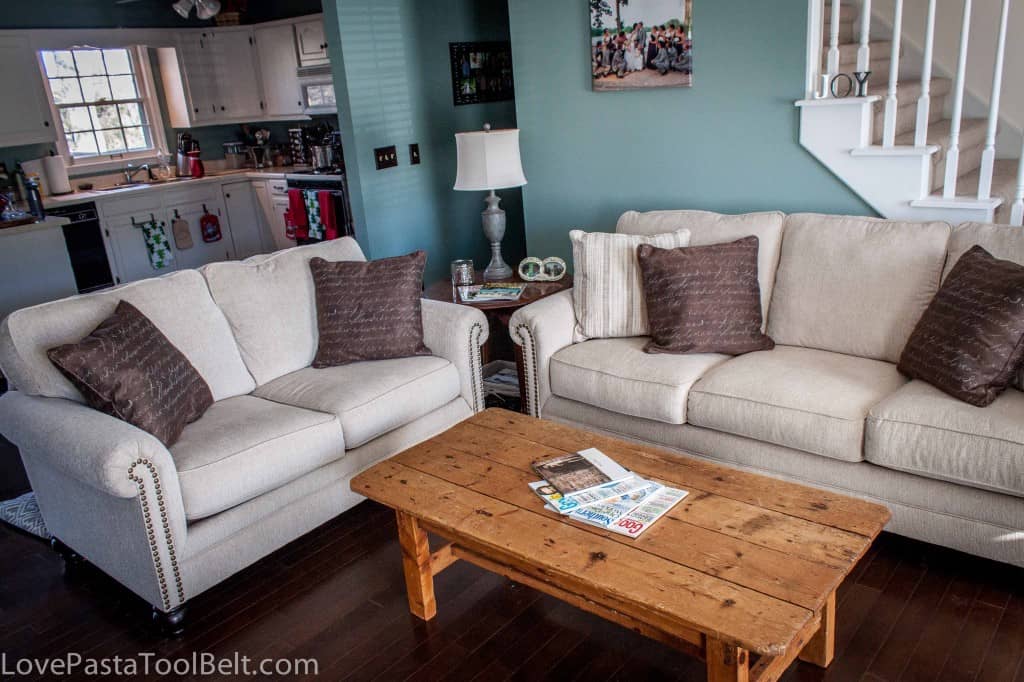 First, let me show you what we started out with in this house. Looking at the before and after pictures it's hard to believe we were sold on this house but when we walked in we knew it was home. It was the first house that felt like home and where I saw the potential for some serious remodeling.
The first big project we knew we wanted to do was to get rid of that long wall. When we started house hunting I knew I wanted an open concept kitchen/living room area. That was proving really hard to find until we found this house with the potential to remove a wall and create our own open concept. I was really feeling like I was on an episode from HGTV.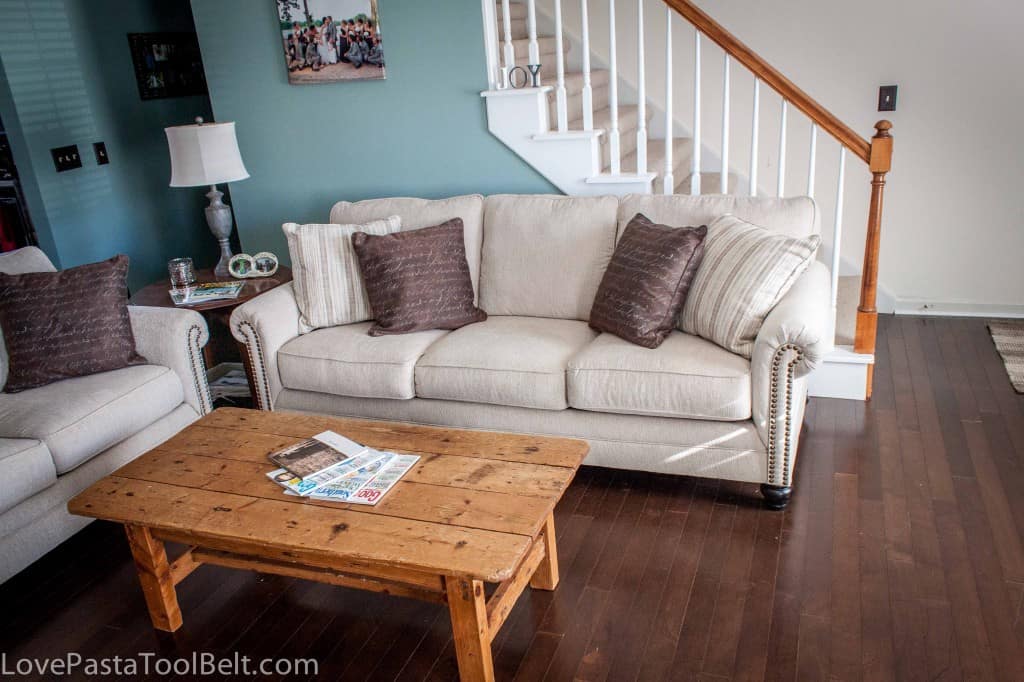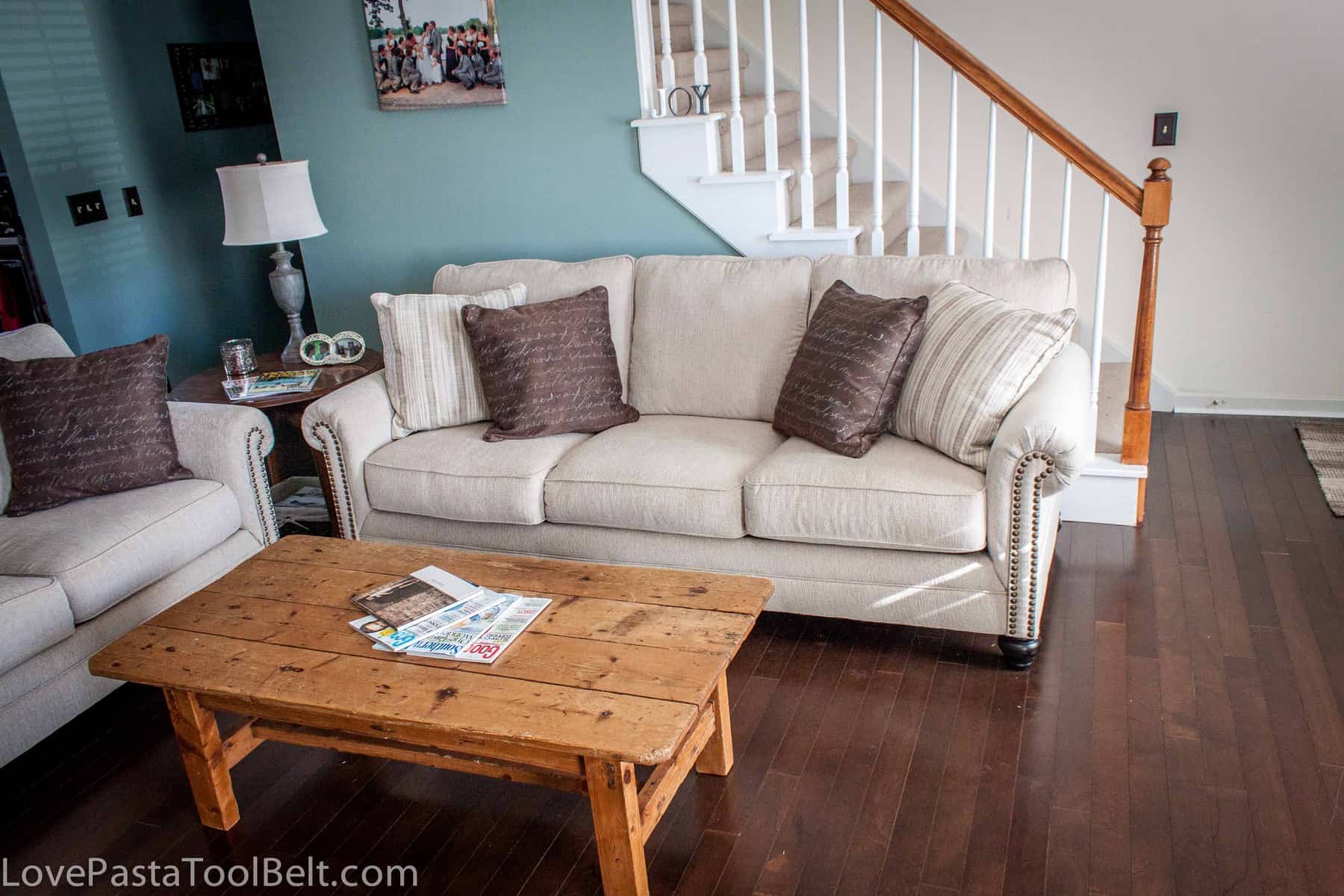 Would you believe I didn't realize this carpet was blue at first. Blue carpet, it was ugly and really showed it's age once the previous owner moved out. We knew we wanted hardwood floors and we wanted dark ones. So we proceeded to rip up the carpet, the entry way floors and the kitchen laminate tile and lay down hardwoods ourselves (that's another post coming to you soon).
The taupe walls were pretty and looked good with the floors, until we got our new couches into the house. The beige couches with the taupe walls was so ugly. I really wanted to brighten up the room so I took a risk and went with this color which is Stratton Blue from Benjamin Moore, however we took the paint chip to Sherwin Williams and had them match it in their cashmere flat paint.
The couches and pillows are from Ashley Furniture. The coffee table really completed the room. It was my grandparents and when they downsized my brother claimed it, for the future I guess because it was sitting in my parents basement. When my dad suggested we take it home we jumped on that idea. Unfortunately we forgot to cover it with a sheet when my brother came for Christmas so he knows it's here. We will enjoy it while we can.
I am in love with the fireplace. I was really worried the mantle would look bad with the dark floors but they actually complement each other really well. I was so excited to get a fireplace in our new house and it's a gorgeous one!
It's pretty sparsely decorated since all of the Christmas decorations went back into storage but we will slowly continue working on adding to the decor. The hardest part to me is that everything in the stores I like is turquoise. But since I painted my walls a turquoise color that rules out all of those decorations. What would be your suggestions for some accent colors?
I hope you all enjoyed the tour of our new and improved living room. Have you remodeled recently? We still have a couple rooms that need some love and I am looking forward to coming up with ideas for them!