Get all of the flavors of a traditional lasagna without the guilt with this healthier Spaghetti Squash Lasagna. Perfect for dinner with the whole family.
I love the start of a new year. It feels like a fresh start to begin again in certain areas that maybe I didn't succeed in in the previous year. 2016 was a big year for us and my family. We welcomed K to the family in the spring as well as my nephew, and in the fall my brother got married. We added three family members this year and have loved the joys each has brought. With so much going on this year it's been hard to focus on eating healthier but this Spaghetti Squash Lasagna is one meal that makes it easy and delicious.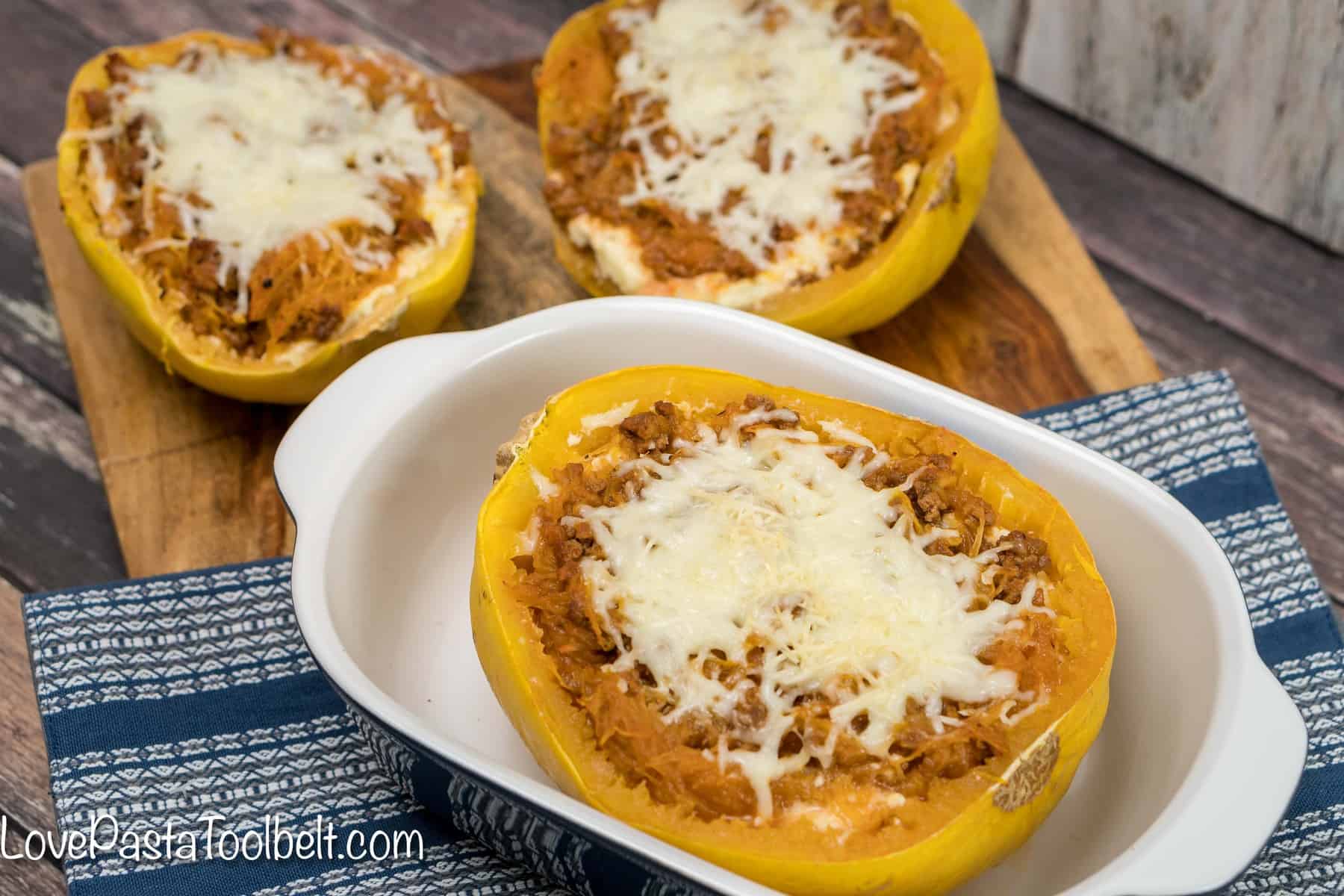 One thing I always want to do in the new year is work on eating better. I've tried many different paths to that but usually fail. This year I'm trying something new and not plunging head first into ditching all the foods I love. I really like carbs and I like desserts a lot. My first goal is that I'm going to try (and I emphasize the word try) to have at least two dinners a week with no carbs or very minimal carbs. I'm a sucker for having my bread with my meal or my pasta on the side. I decided instead of trying and failing at some cold turkey idea, that I would try for smaller and more measurable and achievable steps toward healthier eating. Spaghetti Squash Lasagna is one of my favorite easy ways to achieve this goal.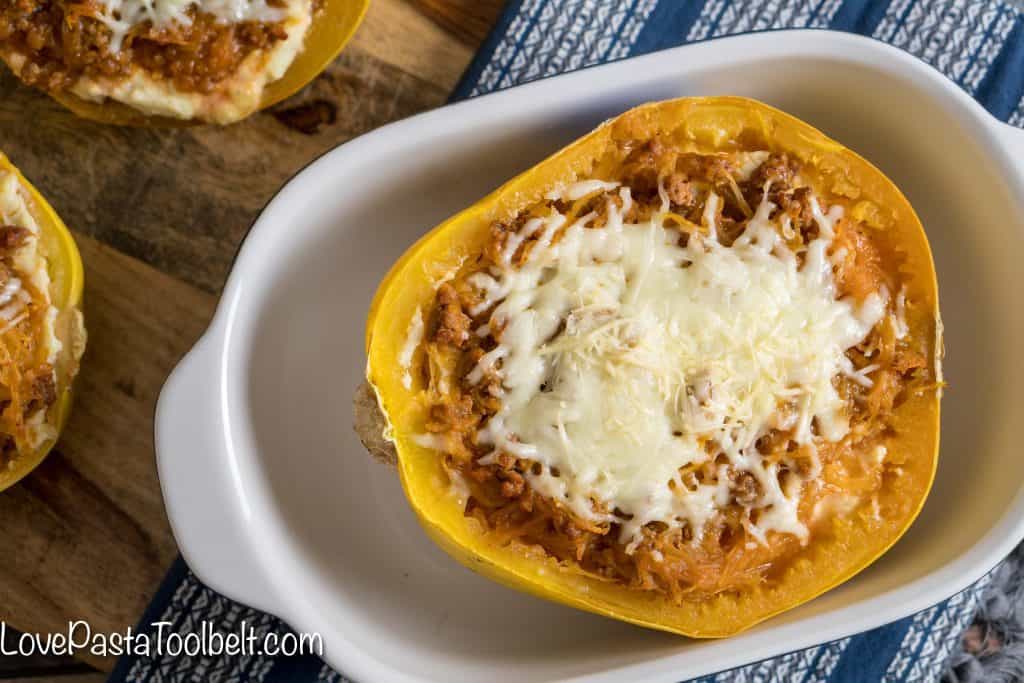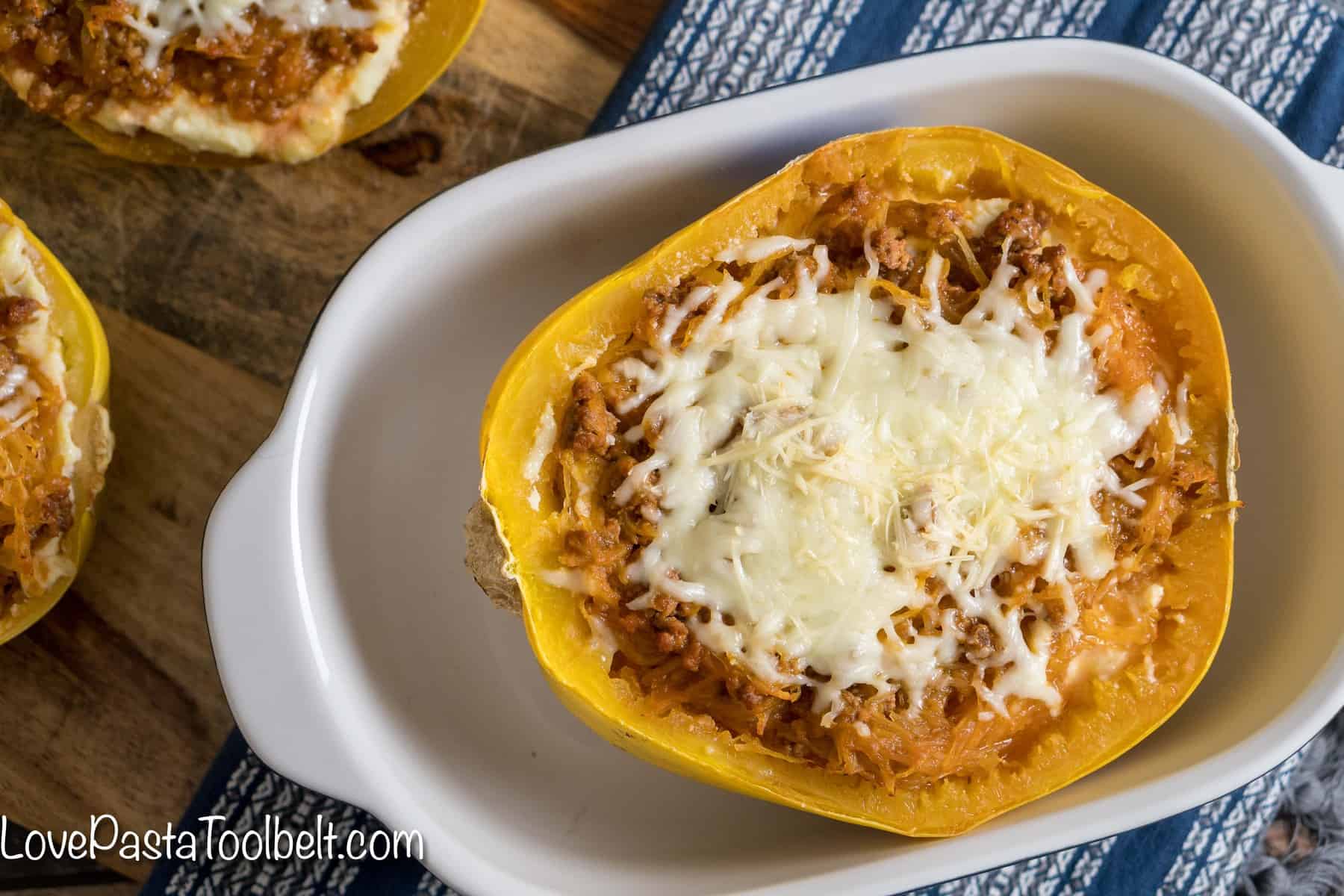 Since pasta is a pretty big weakness for me I have loved my discovery of spaghetti squash. A vegetable that I can replace for pasta, yes please! One of our favorite ways to have it is as lasagna.. Spaghetti Squash Lasagna pretty easy to make and a healthier option than a lasagna that is full of pasta.
Ingredients: 
– 2 Spaghetti Squash, medium size
– 1 lb. ground beef
– 24 oz. marinara sauce
– 1 cup shredded mozzarella cheese, divided
– 1/2 cup shredded parmesan cheese, divided
– 16 oz. Part Skim Ricotta Cheese
– 1 egg, lightly beaten
– Sprinkling of dried parsley
Directions: 
Preheat your oven to 425
Cut spaghetti squash in half longways.
Cover the bottom of a rimmed baking sheet with water and place spaghetti squash open side down on baking sheet
Bake spaghetti squash for 1 hour or until it is soft when you poke the outside skin with a fork.
Remove spaghetti squash from the oven and allow it to cool
Brown ground beef and drain fat
Mix together the ground beef and marinara sauce in a large bowl
In a medium bowl mix together the ricotta, egg, 1/2 cup of the mozzarella, 1/4 cup of the parmesan and the parsley
Once the spaghetti squash has cooled take a fork and scrape the spaghetti squash out, it will come out looking like pasta noodles. As you scrape it out place into a bowl.
Mix the spaghetti squash and the beef/marinara mixture together
Take the ricotta mixture and spread 1/4 of the mixture on the bottom of each spaghetti squash shell.
Next pour some of the spaghetti squash mixture into each shell.
Repeat each step once and then top with the remaining mozzarella and parmesan cheese
Put the spaghetti squash boats back into the oven and cook for 10-15 minutes or until the cheese has melted.
We love the delicious flavor of the lasagna and the fact that you barely notice a difference between regular pasta and this vegetable, that is a win in our book. This Spaghetti Squash Lasagna will make enough for 4 people or for 2 people for 2 nights which is how we use it. I love a meal that makes enough for two nights!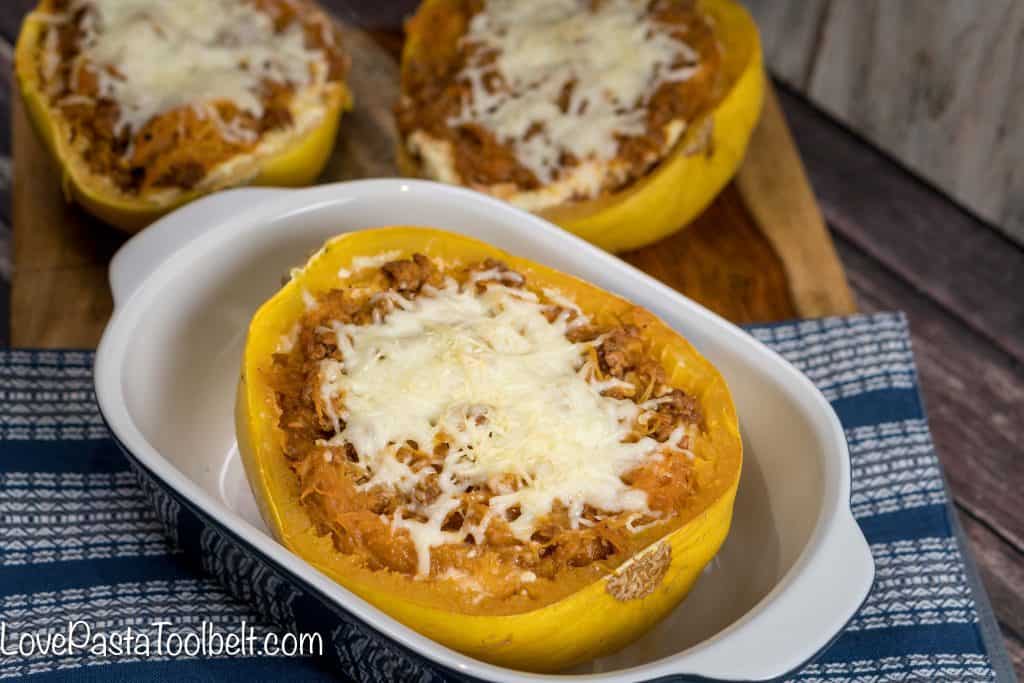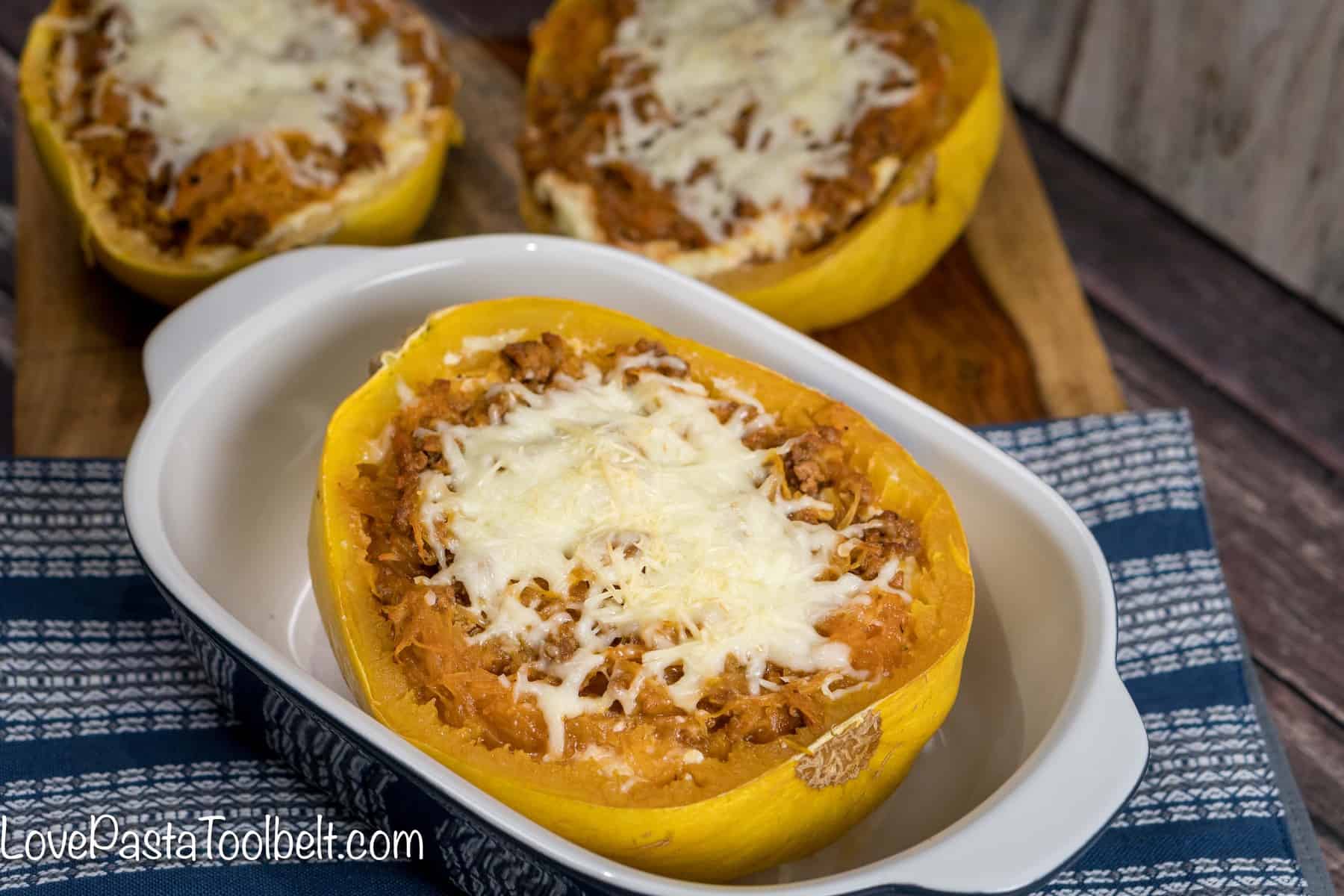 What are some of your favorite ways to try and eat a little bit healthier? Have you tried spaghetti squash before?
Spaghetti Squash Lasagna
Get all of the flavors of a traditional lasagna without the guilt with this healthier Spaghetti Squash Lasagna. Perfect for dinner with the whole family.
Cook Time
1
hour
15
minutes
Total Time
1
hour
45
minutes
Ingredients
2

Spaghetti Squash

medium size

1

lb

ground beef

24

oz

marinara sauce

1

cup

mozzarella cheese

shredded and divided

1/2

cup

parmesan cheese

shredded and divided

16

oz

part skim ricotta cheese

1

egg

lightly beaten

1/2

TBSP

dried parsely
Instructions
Cut spaghetti squash in half, lengthwise and scoop out pulp

Cover the bottom of a rimmed baking sheet with water and lay the spaghetti squash open side down on the sheet

Bake the squash for 1 hour or until the outside of the squash is soft when you poke it with a fork

Remove spaghetti squash from the oven and allow it to cool

Brown ground beef and drain

Mix together the ground beef and marinara sauce in a large bowl

In a medium bowl mix together the ricotta, egg, 1/2 cup mozzarella, 1/4 cup parmesan and the parsley

Once the spaghetti squash has cooled take a fork and scrape the spaghetti squash out, it will come out looking like spaghetti noodles.

As you scrape it out mix it in the bowl with the ground beef and marinara.

Take the ricotta mixture and spread 1/4 cup into the bottom of each spaghetti squash shell

Next pour some of the spaghetti squash/marinara mixture into each shell

Repeat each step once and then top with the remaining mozzarella and parmesan cheese

Put the spaghetti squash boats back in the oven and cook for 10-15 minutes or until the cheese has melted