I love trying new cookies and new chocolate desserts. I especially loved these Chewy Brownie Cookies because they had the texture of a brownie in the form of a cookie. That was just fun to me! I was strolling through the store one weekend and decided I wanted to make some cookies of some sort. I looked through my list of recipes I want to try and thought these sounded fabulous, they did not disappoint.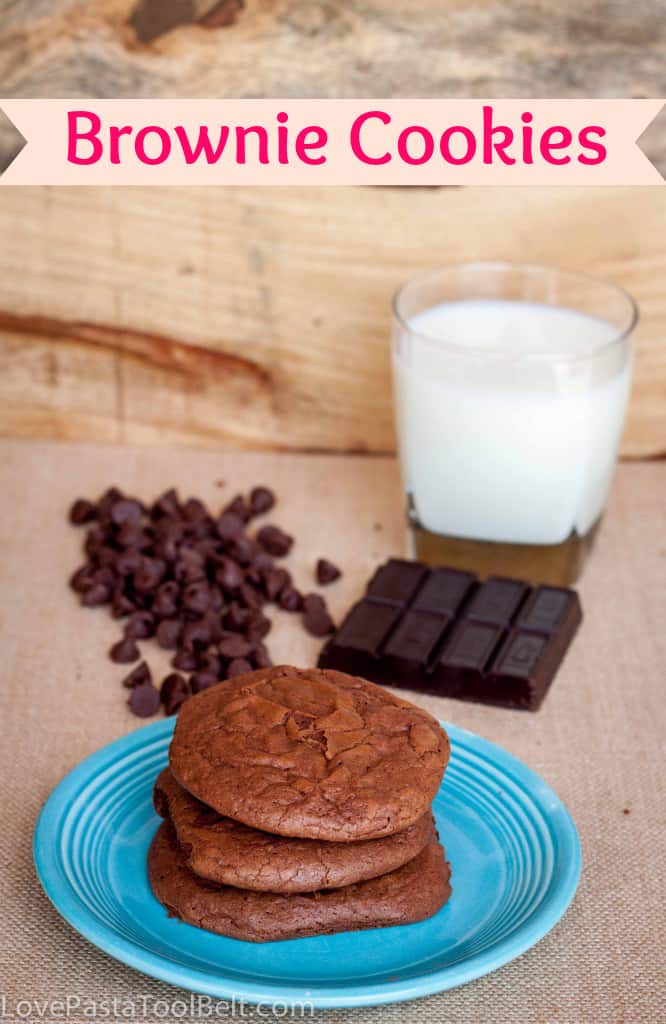 Ingredients
1/4 cup (1/2 a stick) of unsalted butter
2 ounces unsweetened chocolate
3/4 cup semi-sweet chocolate chips
3/4 cup flour
1/4 teaspoon salt
1/4 teaspoon baking powder
2 eggs
3/4 cup sugar
1 teaspoon vanilla extract
Instructions
Put the semi sweet chocolate chips and the unsweetened chocolate in a microwave safe bowl and microwave for about a minute and a half. If not melted microwave until it is
Combine flour, baking soda and salt
In a separate bowl beat eggs, sugar, and vanilla with a fork
Gradually add in flour mixture and stir until well combined
Lastly add in the chocolate mixture and mix well
Line a cookie sheet with parchment paper
Spoon 1-2 Tablespoons of dough onto parchment paper to make cookies
Bake at 350 for 10 minutes
https://lovepastatoolbelt.com/2014/07/chewy-brownie-cookies/
Tyler and I both loved these cookies. You can tell since Tyler is trying to sneak some extra chocolate in the picture. Who stole the cookie from the cookie jar? That song popped into my head when he did this. I'm sorry if I've gotten it stuck in yours now. I loved the brownie texture and how easy they were to make. I had most of the ingredients already at the house so that always makes me excited! Do you guys have a favorite cookie to make?
Adapted from: Gonna Want Seconds
Be sure to check out some of our other delicious cookie recipes!