You know about my wreath love right? If you're new around here then you may not know that I like to make multiple wreaths for each season. Check out my DIY page to see some of them. I wanted to make a wreath that would fit this time of transition from summer to fall. I felt like it was too late for a summery one and too early for a fall one. So I came up with this DIY Initial Wreath and I am in love with it.
I have been wanting to make a cute wreath with an initial for awhile but I always struggled with how to keep the initial on the wreath. This time I decided hot glue and some twine would make it work. I had some good coupons so I headed over to Joann's the other week to pick up my supplies.
Supplies:
– Grapevine Wreath
– Flowers (I got the clip on flowers which made this project so easy)
– Wooden Initial
– Paint
– Brushes
– Twine
– Hot Glue
Instructions:
1. Start with your initial and paint it and let it dry
2. Attach the flowers to the wreath. Mine were clip on flowers so it was a cinch to put them on. In the past with other flowers I have used hot glue or wire to attach them.
3. Once your letter has dried take four pieces of twine. Place two together at the top of your letter and glue to the back. Take the other two and glue to the back on the bottom. This will vary by your initial you are using.
4. Once your hot glue has dried tie the initial on to the wreath. Knot it well and then add additional glue to the back of the initial to insure that it stays.
5. Hang it up and enjoy your decorated door!
I love how this wreath turned out! It's hanging on my front door now and I think it will be the perfect wreath until fall is in the air. Right now it is blazing hot outside so it's definitely not time for a fall wreath. But you better believe I am excited for one and oh my gosh, I just had an idea. You will have to stay tuned for my fall wreath idea!
Check out some of my other wreaths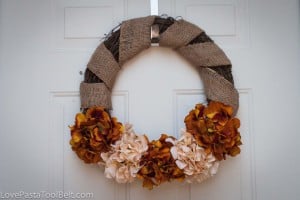 3 Step Fall Burlap Wreath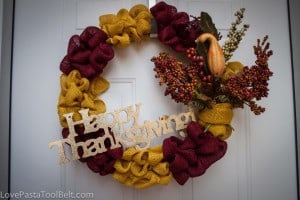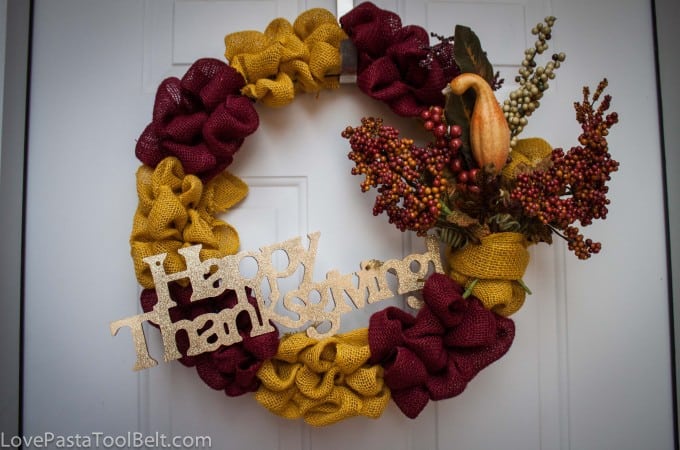 Thanksgiving Burlap Wreath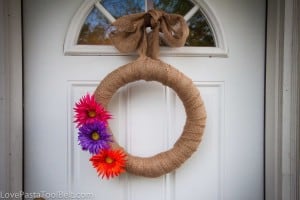 DIY Burlap Wreath