Fall is in the air! Even though we don't really feel it yet here in Tennessee, I can sense it! Can you? When I made my last wreath, DIY Initial Wreath, I had a great idea for a fall wreath and here it is today, my Fall Apple Wreath! Apples are one of my favorite things about fall so it only seemed fitting that my new fall wreath involve apples!
I go to bible study during the week and it's about 5 minutes from all of the good shopping. So I usually go shopping after and the other day, per usual, I hit the craft store and picked up the supplies for this fall apple wreath.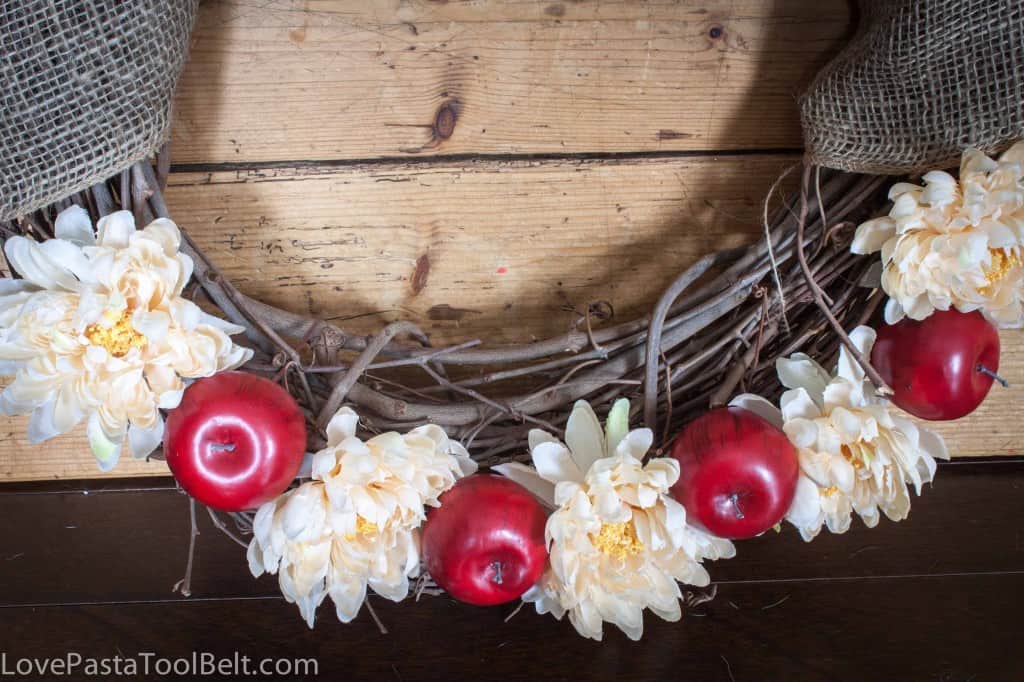 Supplies:
– Grapevine Wreath
– Apple stems
– Flowers
– Hot glue gun
– Burlap roll
– Wire Cutters
Directions:
1. Begin by cutting the the apple and flower stems to fit into the wreath but not stick to far out.
2. Place the apples and flowers into the wreath. If you stick them in well they should stay without any hot glue
3. Take the burlap and wrap around the top of the wreath.
4. Hot glue the burlap into place on the back of the wreath
This wreath turned out so cute. To me apples just say fall so even though it's not very cool here yet I wanted to put up a little fall decor. I love decorating for fall. Yesterday I was photographing my fall table and I love it. I will be sharing it with you in the coming weeks so keep an eye out for it! What is your favorite season to decorate for? Mine is probably a tie between fall and Christmas!
Check out these other great fall wreaths!