Today I am so excited to share our DIY Tile Shower: Before and After with the beautiful Moen shower head that was sent to me in exchange for this post. Even though I received free product all opinions and my love for my Moen shower head are my own!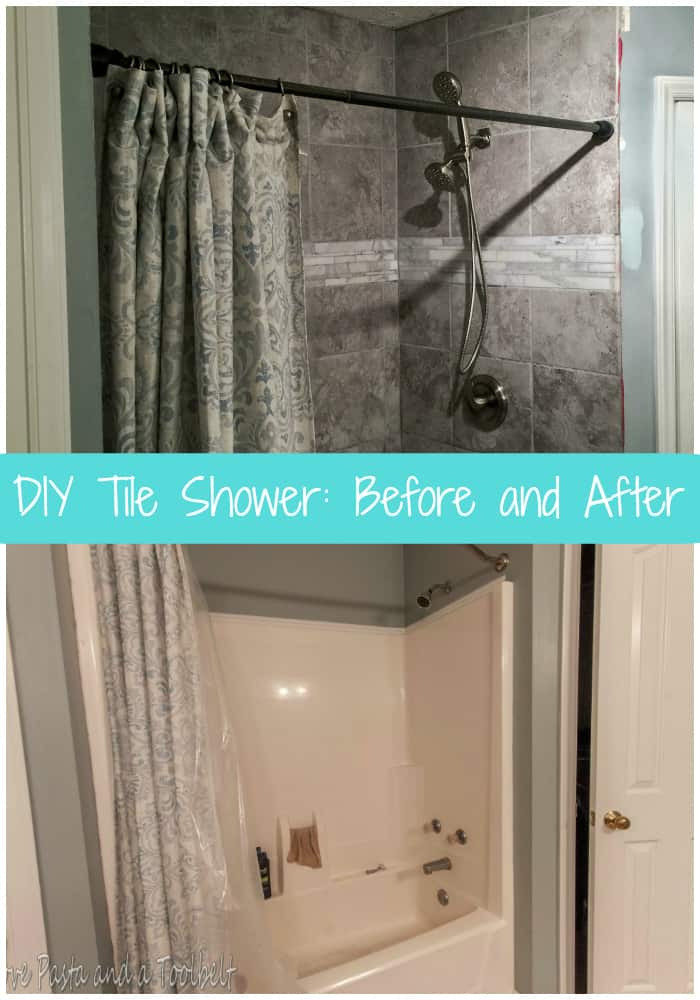 You guys I am so excited to share today's post with you. This project has been a long time coming. If you follow me on Instagram then you may have seen some 9 months when I posted this picture (and no it's not a baby).
Look at us, so young and naive, thinking our shower renovation project would be finished by the end of the year. But as with any good project we hit a few bumps in the road and ended up with some weekends not as free as we had hoped. So here we are on the first of June and I can happily say the shower is DONE and usable! Oh and also, it's amazing.
Now we may put together a little series showing step by step how this dream shower was accomplished but for now I had to share it with you and I'll just give you the basic highlights.
Step 1: Demolition– We had a shower/tub combo that had to be ripped out, cut into pieces and hauled out to our garage. Tyler was pretty excited about the new tools he got to purchase for this project.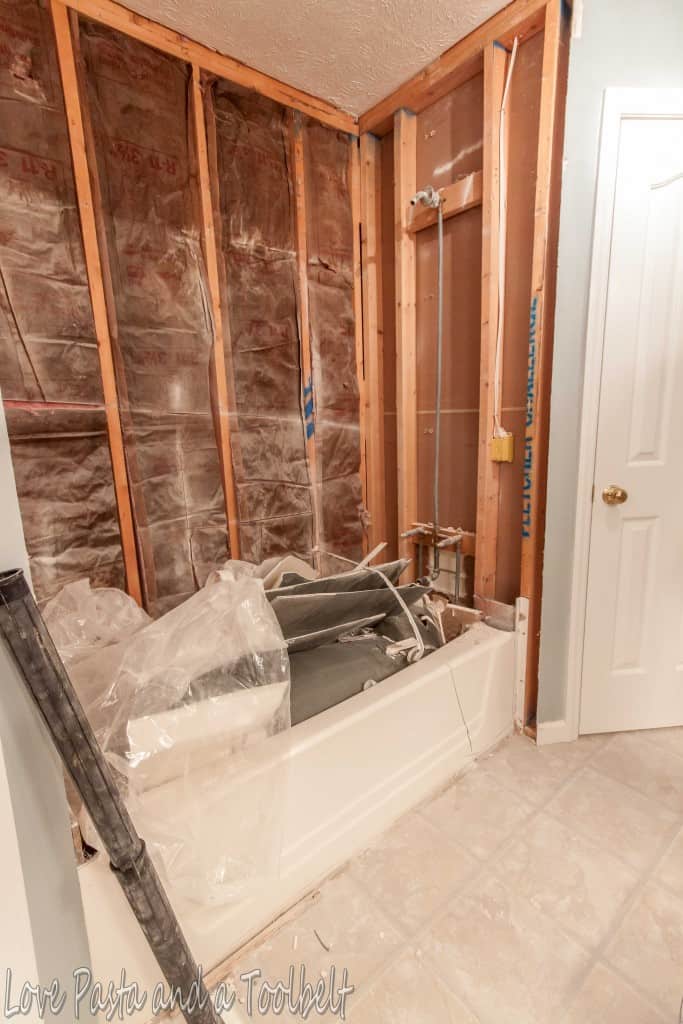 Step 2: Plumbing– This was the only part we hired out. We had to have the plumbing redone to accommodate just a shower and Tyler didn't want to mess with the plumbing so we smartly paid a professional to do it.
Step 3: Shower Pan and Curb– This was the part where Tyler got to mix up concrete and laid the shower pan and built the curb of the shower.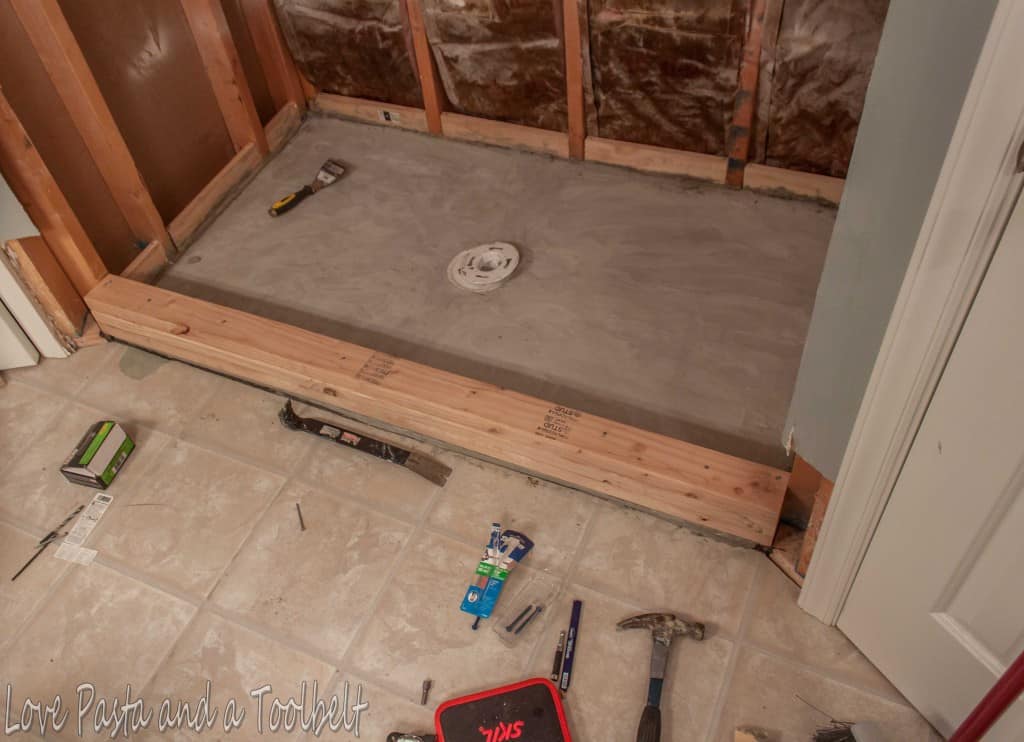 Step 4: Durock– After this step our shower finally had walls again and was not down to the studs any longer. Notice my knowledge of construction terminology, I do listen when Tyler tells me things!
Step 5: Waterproofing– This stage was fun because it turned our entire shower red and it stayed that way, for awhile.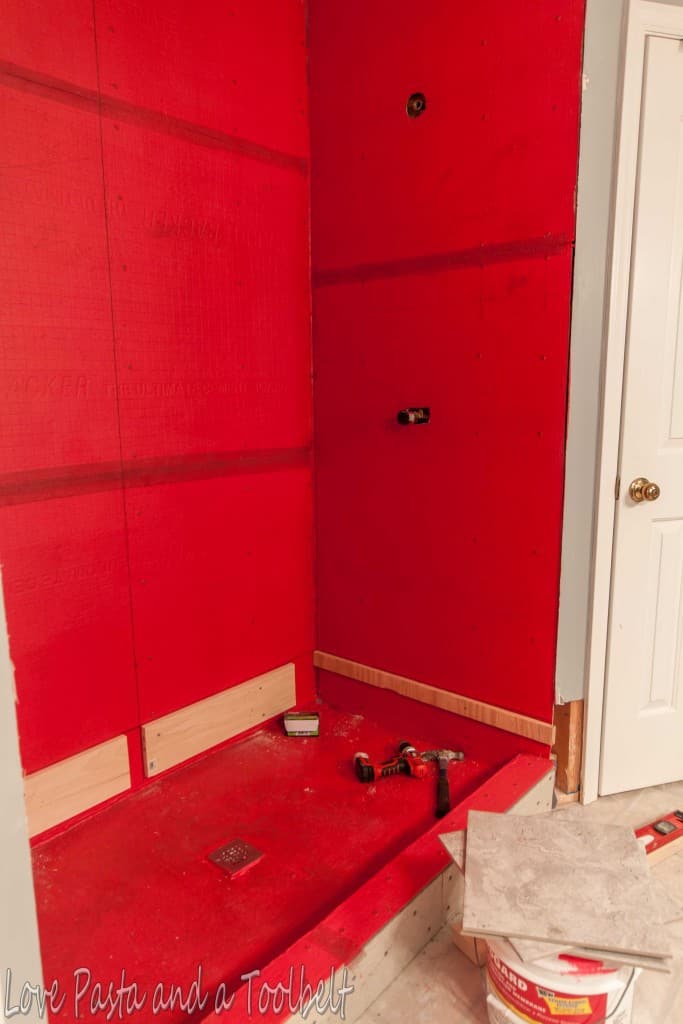 Step 6: Tile– We finally found the time to pick out our tiles (nerve wracking) and start installing them. It was nice to go from the red waterproofer to a nice gray shower.
Step 7: Grout and Scrub– Once the tile was all laid it was time to grout! Wow what a difference it made once the grout was in. Then I came in after Tyler and scrubbed that shower more than it will probably ever be scrubbed again.
Step 8: Seal– After the grout had time to dry we sealed it. Once the seal had dried the recommended time it was time for the best part!
Step 9: Install Moen shower head– I was so excited when Moen sent me this beautiful Banbury shower head to put in the shower and tell you guys about.
I knew I wanted a shower head with a handheld as well. It's my dream to have a shower with multiple shower heads on both sides of the shower but reconfiguring for that was not in this budget. The Banbury shower head with a handheld that allows you to have both on at the same time (cue my excited dance) is the perfect solution! The shower head has a spot resist finish which is perfect since you don't want to leave your fingerprints when you're adjusting to one of the five settings it offers!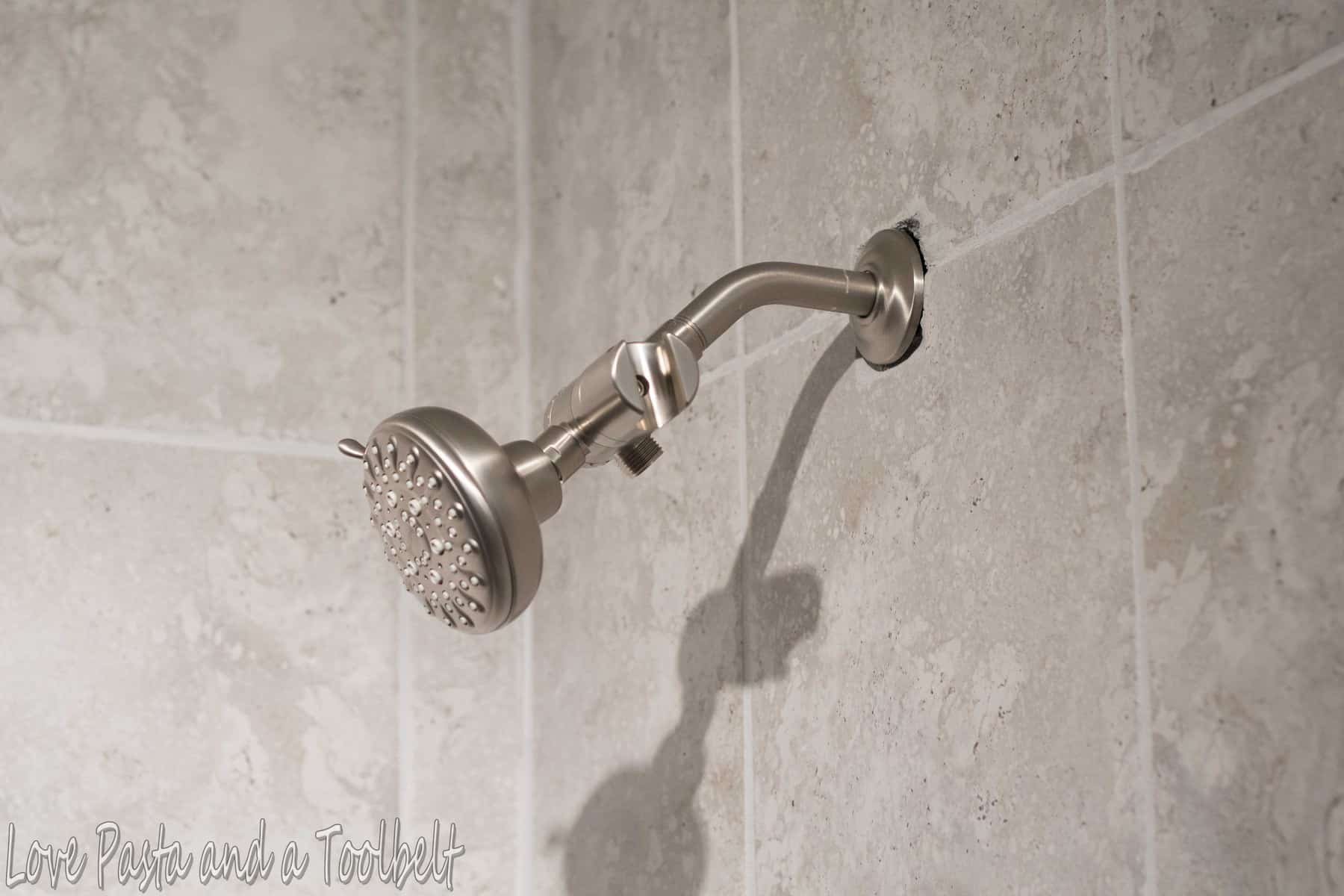 Our Moen Banbury shower head was simple to install and we have a fun video of the install for you!
You can get your own Moen Banbury shower head exclusively at Home Depot!
I am so in love with how our shower turned out! The only thing left is do order the glass door. For the time being we have a shower curtain up which works just fine.
So I want to hear, have any of you redone a shower? Are you thinking about it?