It was unanimous on our Facebook page that everyone wanted to see the Master Bedroom Reveal today! I am so excited to share it with y'all. Our Master Bedroom is probably one of the most complete rooms in the house. We have a few little things we would like to do which I will share with you all at the end of this post.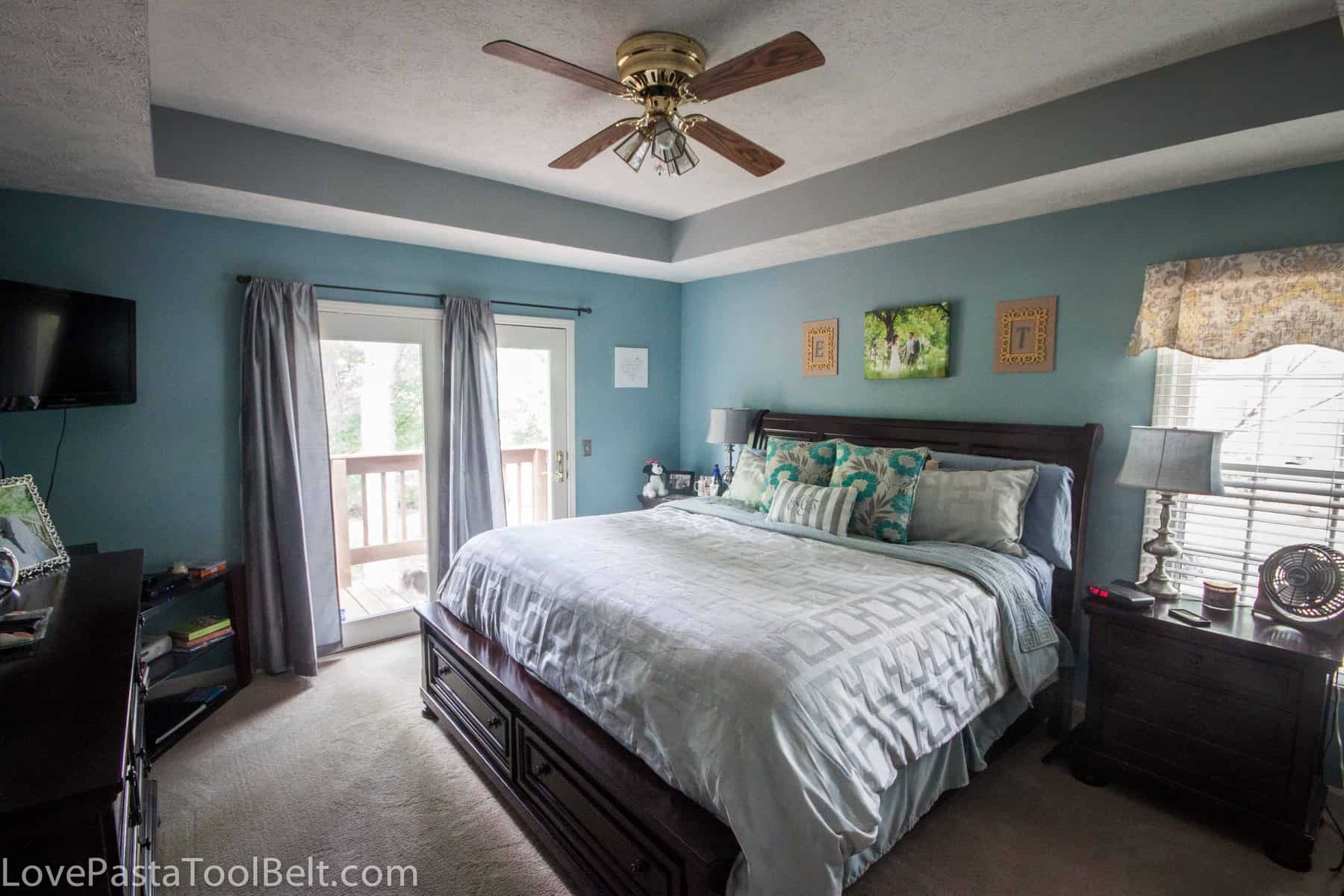 I love our Master Bedroom and the serene feel we have created in there. Before I launch into everything we did let me show you a before shot.
We started out with a blank wall and these ugly curtains and blinds that were left in the room. Also note the ugly Carolina blue carpet that was in our living room as well before we redid it. The first thing we started with was ripping up the blue carpet and then we had new beige carpet installed.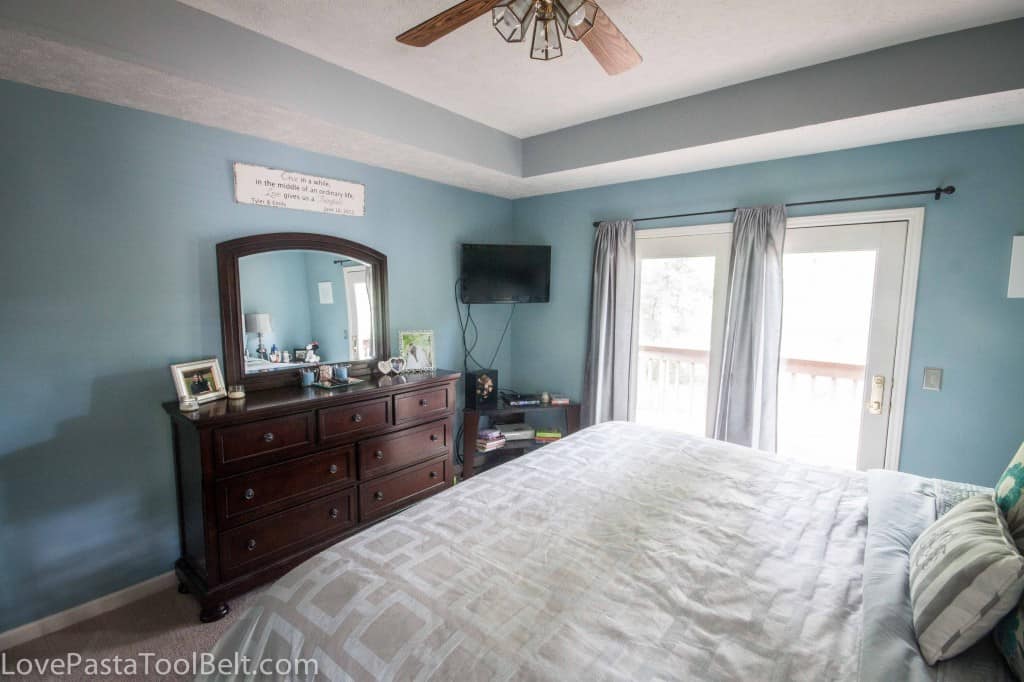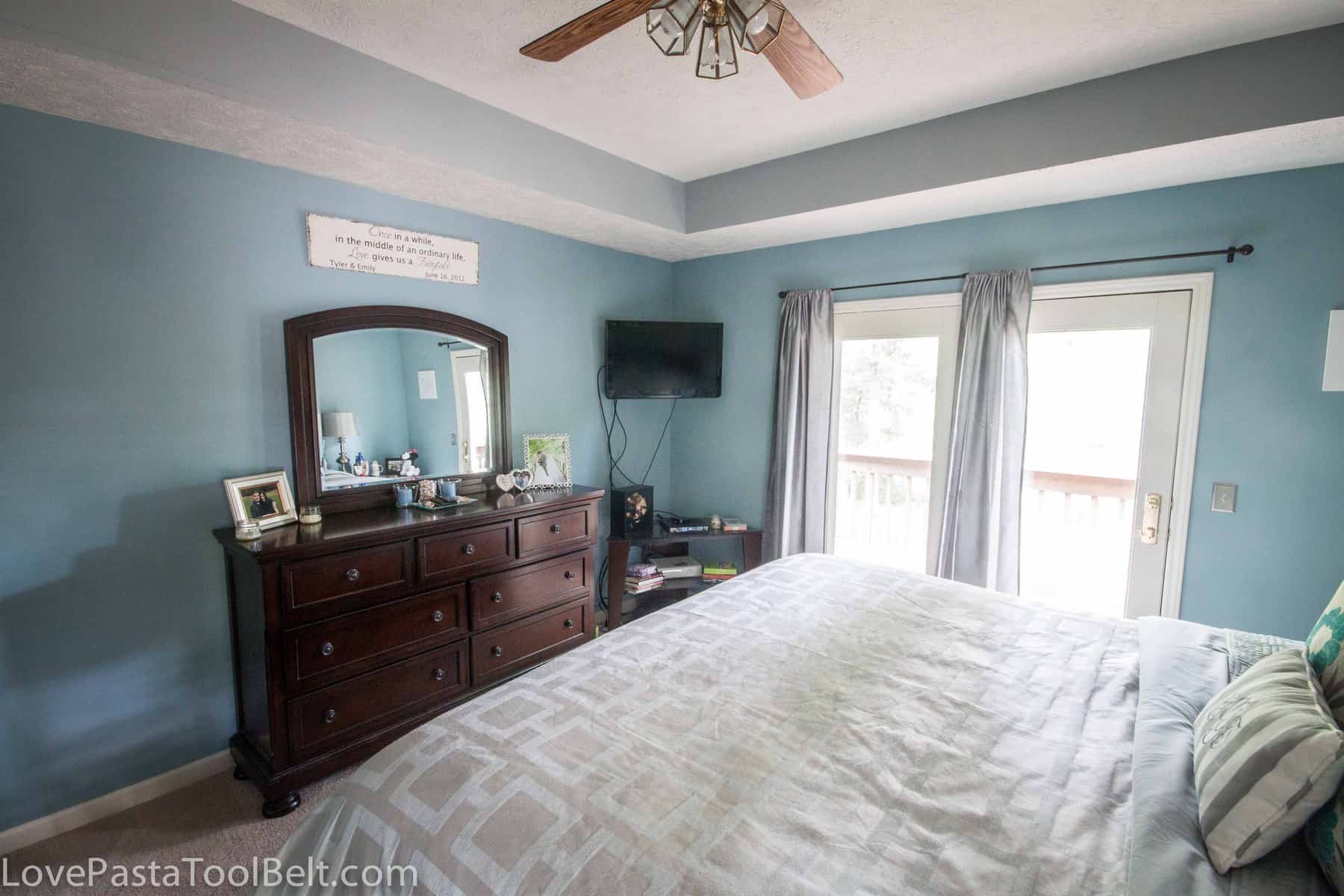 You can see that we got rid of the ugly pointy curtain rod and those awful blinds. We weren't sure what to do to cover this door but we had to cover it up. We picked up these long curtains from Kohl's. They do the job and keep the sun blocked out in the morning.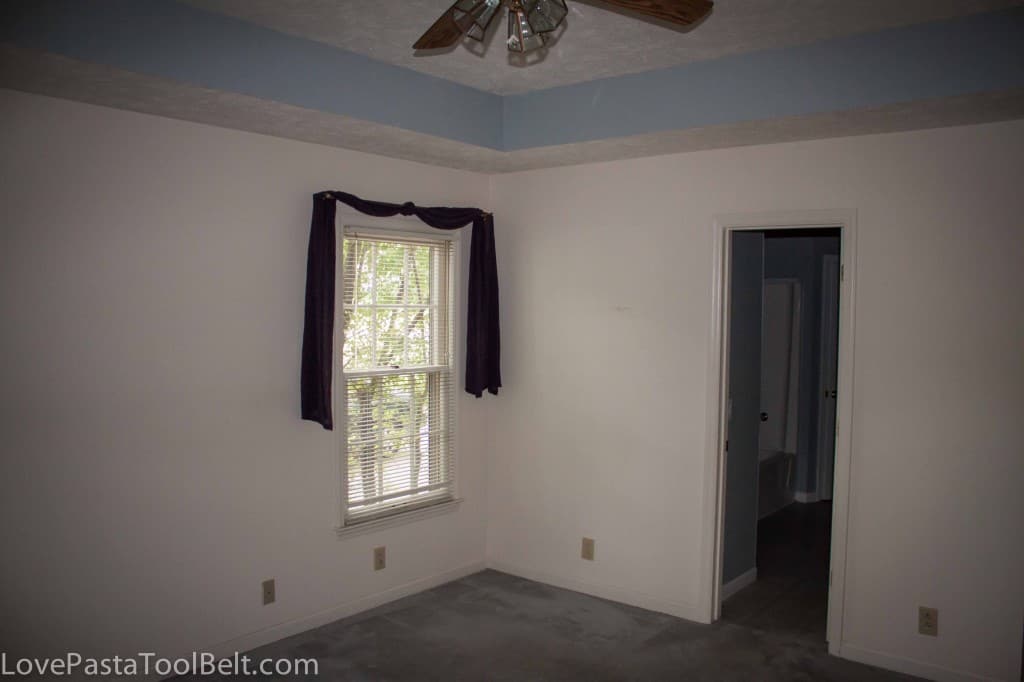 My dad was kind enough to come in and paint the walls the beautiful shade of blue that we picked out. We didn't paint the tray ceiling part and it is a different color so we would like to do that one day. We also took our curtains from our Master Bedroom in Manassas and put it into this bedroom and they look great!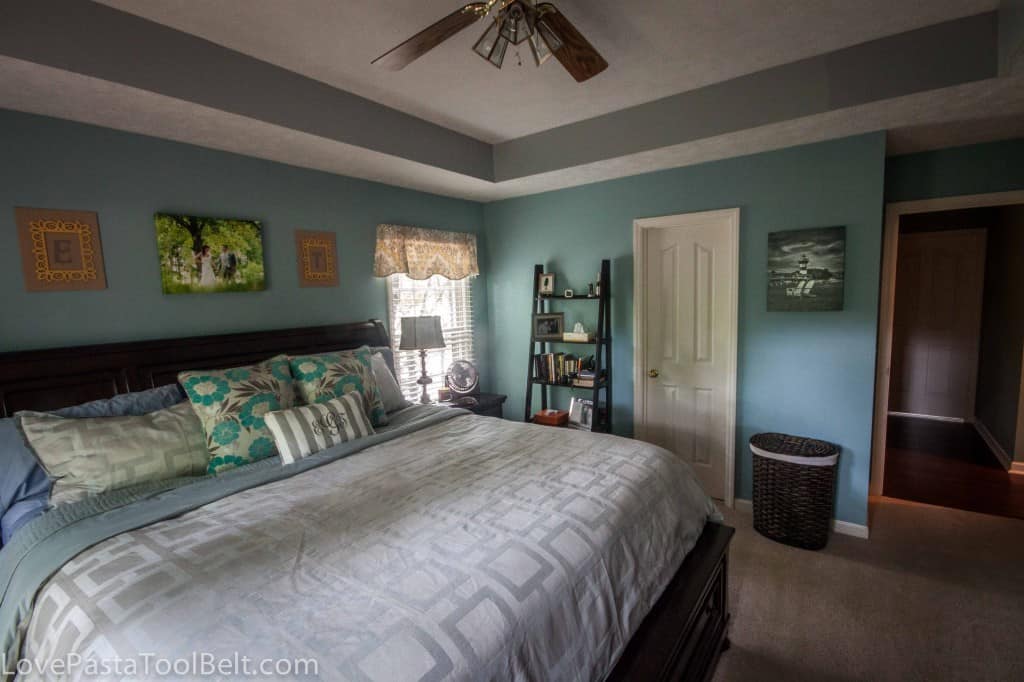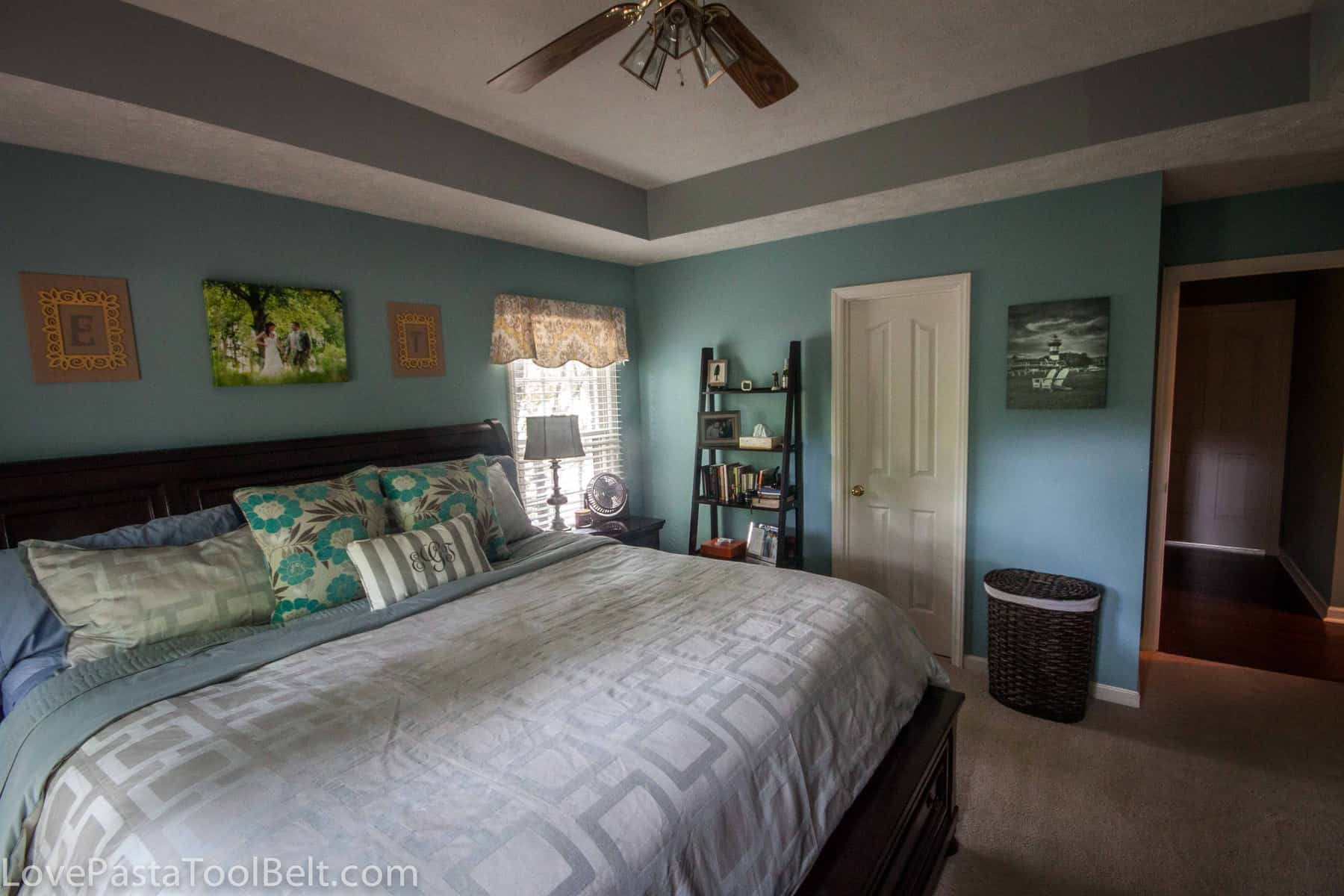 We have kind of a hodge podge of prints in the bedroom but I am rolling with it. We have the curtains from the Manassas master that my mom made for us. I loved them so I'm so glad one of them worked out in here. We also have the beautiful flower pillows that my mother-in-law had extra from a house she did (she's an interior designer).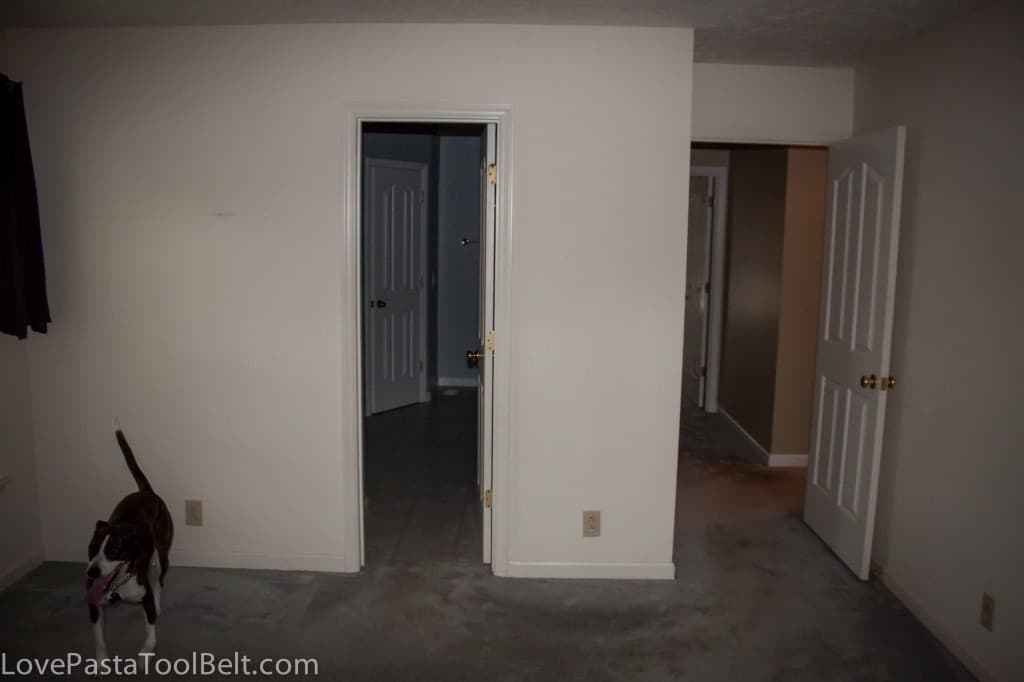 You can see sweet Dolly checking out her new house in this picture. Through the door on the left is the master bathroom (which is still a work in progress) and through the right door is the hallway. Directly down the hall is the one day nursery. Note how I said one day, don't get any ideas yet Mom!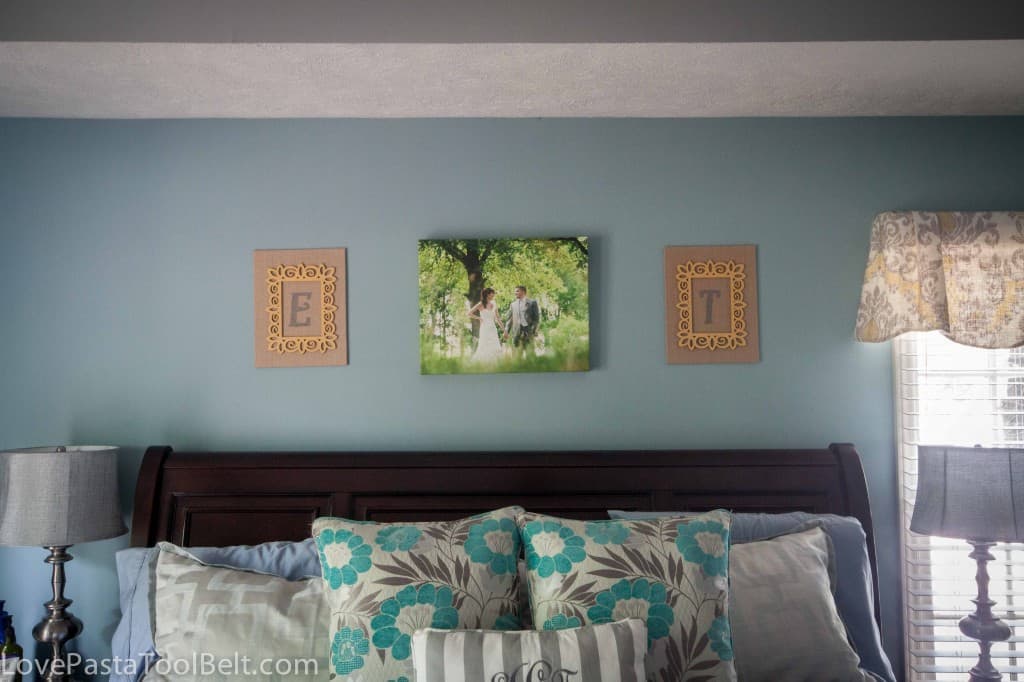 We finally completed the space over our bed with our Initial Burlap Canvases. I love how it turned out. We also got these cute lamps from my parents for Christmas last year which have been great to have. We got all of our furniture at Ashley Furniture and it is the Porter collection. We love it!
So this is our Master Bedroom Reveal. There are still some things we want to do but for the most part it has come together wonderfully!
To Do:
– Replace the fan
– Repaint the tray ceiling area
– Hide the cords from the TV and possibly replace the corner TV stand
– Get a canvas print to complete the blank wall